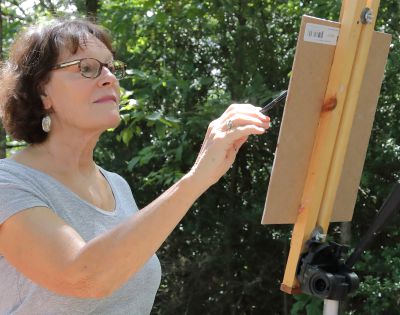 ARTIST STATEMENT
In the Blue Ridge Mountains where I live, beauty is all around us. I was a potter working with clay on a wheel for many years. When you throw the clay on the wheel and press in and down on it, there is a point eventually when the clay on the wheel stops wobbling and is completely centered. It feels like the universe is aligned and you can take a deep breath and say "yes!".
All is in synch for that moment.
When I complete a painting, walk away and come back into the studio and feel that "yes!", I have that same feeling of being in synch with the subject of my painting. I love setting challenges for myself. Developing a new way of seeing and representing the world around me in two dimensions has been a wonderful and difficult challenge. I am intrigued by the properties of light and atmosphere and how they affect the colors and shapes of the objects we look at every day. I am exploring color and how to use color to build form rather than drawing the form and then coloring within the lines. I hope to keep learning new ways to use color, light and shadow to translate the emotional connection I have with nature.
I want my paintings to elicit that feeling of peace and calm that brings a small smile to your face and makes you want to just climb into that scene and appreciate the feeling for that moment. I love sharing that connection with the people who see my paintings.
BIOGRAPHY
Born in Roanoke, Virginia, Annie grew up surrounded by the beautiful Blue Ridge Mountains. The oldest of three children, her childhood was filled with the joy of playing outdoors and exploring her neighborhood with friends every day after school.
Although her parents were not artists, she says her interest in art began as a child when she spent hours engrossed in the arts and crafts sets they gave her every birthday and Christmas.
She took art classes at the local arts center, but also demonstrated an aptitude and talent for singing, so she was steered toward music in school instead of art. Although she loved singing, she said she watched with envy when some of her friends went to art class.
Her singing gave her the opportunity to appear in plays with the theater group in high school and with the local professional theater. This led her to other areas of theater arts such as building and painting sets using skills like trompe l'oiel techniques painting seemingly real scenes on the backdrops of the sets.
Ultimately torn between her love of singing and her desire to make art, she chose singing and majored in vocal performance in college. After two years, she decided this was not the career for her so she married her high school sweetheart, had two daughters, went back to school, completed a graduate degree and had a long professional career in the field of early childhood development.
During the time she was working, she never stopped making art, keeping travel journals and sketch books and taking classes in a variety of art media.
PEACEFUL REFUGE AND A NEW BEGINNING
When her children were little, Annie was juggling being a mom, working a part-time job, being a full-time graduate student and making extra money singing in a country-rock band. Making art became a peaceful refuge for her after the children were in bed or settled down upstairs with their dad.
When the children were grown and no longer living at home, she started taking pottery classes at the local recreation center and became totally hooked. She spent as much time as possible at the pottery studio. She was an early member of the Blue Ridge Potter's Guild, selling pots at their annual shows and getting occasional commissions such as making a sink for a customer's new powder room.
After some life changes, she met and married her second husband, who had a degree in fine arts and had studied pottery and art all over the world. He became her muse, her biggest supporter and greatest critic. He bought her a pottery wheel and helped her set up her own studio. She felt like she had finally come home.
A few years later, he and a friend encouraged her to take a painting class in watercolors. Again, she felt at home in her expanding art world. Since then she has taken college painting and drawing courses and completed numerous workshops and classes. She loves critiques and has learned a great deal from other artists.
INSPIRATION AND CHALLENGES
In her studies over the years, in addition to some amazing local teachers and workshop leaders, Annie has been heavily influenced by Edward Hopper and has become more and more drawn to the teachings and philosophy of Henry Hensche and the Cape Cod School of Art. Hensche said "See the light, not the object-the object IS the light!"
The idea of how light affects color and shape has been the central focus of how she composes and creates her paintings.
She looks for beauty in water, clouds and mountains. She is captivated by light and color in every day subjects like a chair in a dark room, lit only by the warm glow of the street light or a vase of tulips sitting on the kitchen counter with the light streaming in the back door making shadows and reflections on every surface.
Hensche's description of a painter is perfect inspiration for her. "A painter is a teacher who helps others see the beauty of the world"
Annie also loves to travel. In the past five years, she has traveled to Paris and Provence, Portugal, Spain, Puerto Rico, Belize, Costa Rica, Morocco, and across the USA through 26 states and 14 national parks.
Although travel has slowed down during this pandemic, she plans to begin traveling again next year with a trip to Italy and an artist retreat in Maine. Many of the paintings on her website come from her travels and the thousands photos she has taken serve not only as great memories but often as inspiration for her paintings.
She has had challenges along the way but has always managed to incorporate art into her life, no matter what challenges she faced. While caring for her younger daughter, who has a severe seizure disorder, autism and intellectual disabilities, for her parents, both of whom had dementia, or finally for her husband who passed away from cancer in 2016, her art practice never stopped.
Since the loss of her husband, she has moved to a smaller house, a 1939 bungalow, and set up a new studio upstairs in an old sleeping porch with large new windows on 3 sides. "It feels like a tree house," she says. Art continues to be a refuge and a source of joy for her.
MOVING FORWARD
During her years as a painter, she has sold her paintings at local and regional art shows, including a solo show at a gallery in a local coffee shop.
Most recently, she held a joint show at a local community gallery and theater with her friend who is a photographer. Together, they chronicled their month-long road trip to Utah, displaying his photographs and her art together.
She is a member of the Market Gallery in her home town of Roanoke, Virginia. She belongs to the local arts association and is a member of Oil Painters of America. She takes advantage of as many opportunities to learn and connect with other artists as she can.
YES!
Today, in addition to her art, Annie loves sailing, kayaking, volunteering at the local food bank, and gardening at her new house. She gets outside as much as possible to paint and soak in the beauty that surrounds her.
Her artistic style has developed over time as she has practiced new techniques or found new inspiration from a visit to a gallery or museum.
It's easy to get overwhelmed moving from workshop to workshop with different teachers and techniques.
She takes bits of wisdom and technique from each experience but resists the tendancy to become overwhelmed with the onslaught of information. She combines new information with hours and hours of painting practice every day and continually searches for the best techniques to communicate what she wants to say through her paintings.
When it works, she says, she finds her center, a process in pottery when the clay stops wobbling on the wheel and is smooth, going around just perfectly.
It's that place where, for just a minute, you feel the universe is aligning just right and you can breathe. For a painting, it's that place where, when you walk away for a break and come back into the room and look at your painting, you take a deep breath and say "yes!"
ART RESUME
Annie J. Schultz, Artist
Roanoke, Virginia
Education:
Annie Schultz started making art as a potter in 1994. Her experience as a potter served as the beginning of her understanding and appreciation of the rules of composition and balance in all art. Drawing thumbnail sketches, taking into account those rules as she planned the shapes of her pots, is a practice that has stayed with her to this day as a foundation for her paintings.
She took classes at a local pottery studio in Roanoke, VA for 15 years before opening her own studio in her home. She sold her pots through the Blue Ridge Potters Guild shows and private commissions.
Having switched from pottery to painting, she now exclusively paints with oils and finds inspiration in the beautiful Blue Ridge mountains that surround her and in interesting patterns of color, light and shadow in everyday objects. She often gets requests for commissions from her collectors and has painted the special houses, pets or giant sunflowers that inspire them.
Her painting education has included a combination of college classes, on-line courses in drawing and painting, and classes and workshops at local studio schools in oils, watercolor, acrylic, pastels, and cold wax.
She has worked with many excellent teachers and mentors in the years since she began her painting practice with her first watercolor class in 1997. In 2017, she started her professional career as a full-time artist. She never stops seeking knowledge and understanding of the properties of different media, the principles of design, composition, value and color in her paintings.
College Courses:
2018 Hollins University: Introduction to Drawing, Elise Schweitzer
2016. Anne Arundel Community College: Art 131, Painting 1 & 2, Matt Kloss
Art Classes:
2020 Lynchburg Art Club Class with Ron Boehmer (painting in oils)
2018-2019 Beverly Street Studio School, Staunton, VA Classes with Ron Boehmer (painting in oils)
2014-2018. The Studio School, Roanoke, VA
Classes with: Vera Dickerson (Acrylic portraiture)
Robin Poteet (watercolors)
Tracy Budd (abstract acrylics)
Judy Bates. (Flemish Masters Techniques in Oil, Painting Portraits in the Style of John Singer Sargent)
1997: Watercolor Painting: Judy Bates
1994-2004 Pottery on the Wheel, Roanoke County
Professional Workshops with:
Joann Anderson
Robert Burridge
Vera Dickerson
Joan Fullerton
Matt Kloss
Tom Lynch
Lynn Mehta
Anne Pheiffer
John Poon
Robin Poteet,
Elise Schweitzer
Gina Louthian Stanley
Bill White
Organizations
Oil Painters of America
The League of Roanoke Artists (Board secretary, 2016-2018)
The Studio School of Roanoke, VA
The Beverly Street Studio School
Southern Collage Critique Group (monthly critiques with fellow artists and teachers)
Recent Exhibitions and Shows:
Alleghany Highlands Arts and Crafts Center Fall Festival Art Exhibit, October 2020
Oil Painters of America Wet Paint Competition, 2020 (virtual)
LinDor Gallery, Art at The Coves show, Union Hall, VA September 2020
The Market Galley, Roanoke, VA – Guest Artist, February 2019, Full member, 2020
Grandin Theater Gallery, Roanoke VA two-person show, January, 2019
League of Roanoke Artists Annual Showcase: 2016-2018
Movement Art Gala Show, 202 Gallery and Studios, 2019
Bath County Art Show, 2019
Virginia Tech Carilion School of Medicine Exhibition:
2018: The Influence of Women
2019: Virginia's Blue Ridge, A Metro-Mountain Adventure
Art Blast, The Studio School, Roanoke, VA 2017-2019
Smith Mountain Arts Council Annual Shows, Moneta VA: 2017-2018
WVTF LRA Member show, Annually 2014-2019
Cups Coffee Shop Gallery, Roanoke, VA- solo show, June, 2016
Gallery Representation/Membership:
The Market Gallery, Roanoke, VA
Private Collectors:
Steve Bowery, Roanoke, VA
Alex Bowles, Roanoke, VA
Barbara Calnan, Roanoke, VA
Dorothy Clifton, Roanoke, VANina Sweeny, Roanoke, VA
Nikos Dogas, Baltimore, MD
Joe Porfert, Roanoke, VA
Bennett Hammond, New Hampshire
Elizabeth T. Greer, Roanoke, VA
Jeannie and Steve Francis, Roanoke, VA
Steve and Shirley Ann Froves, Costa Mesa, CA
George Getz and Michael Schmitt, Roanoke, VA
Bonnie Davidson Hammerschlag, Colombia, MD
Joe and Martha Janney, Baltimore, MD
Therry & Wally Nielsen-Steinhardt, Roanoke, VA
Linda and John Pharis, Roanoke, VA
Eva Quiroz, Roanoke, VA
Richard Sheridan, Roanoke, VA
Marianne Shick, Baltimore, MD
Angela Shortall, Baltimore, MD
Sandra Smith, Baltimore, MD
Su Taylor, Roanoke, VA
Sheila UmberAnnapolis, MD